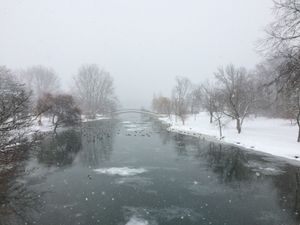 Obligatory Bio
Steve Leggett of All Music Guide referred to George Stephen Kelly thusly: "A fine slide guitarist, Kelly is also a careful and literate songwriter, somewhat in the John Hiatt vein... … an artist and writer to watch." George's writing has also been compared with Van Morrison and Mark Knopfler.  
A long time sideman who's played in just about every kind of joint there is from Maine to Montana, in recent years George set out to record his own songs in the music mecca of Motown.  He has produced three albums, the critically acclaimed Lucid Intervals in 2004 (under the name George Kelly), The Power, The Glory & The Monkey Time in 2016 and Discount Cowboy in 2020. He also contributed a track to the compilation record Fins, Chrome and the Open Road - A Tribute to the Cadillac, in 2005. The collection featured many blues luminaries, including Charlie Musselwhite, Maria Muldaur and one of his heroes Jimmy Hall.  
George Stephen Kelly will be eligible for the Rock and Roll Hall of Fame in 2029. He is not currently planning a speech for that event. On the plus side, his late bloomer start as a solo artist virtually guarantees he will never be a nostalgia act. 
-----------------------------------------------
Most of what you need to know about George can be ascertained by his selections in an extended game of This or That. Feel free to play along. There are no wrong answers, except for the ones he didn't select.
Beatles or Stones: Stones 
Ginger or Mary Ann: Ginger 
Willie Mays or Willie McTell: Yes
Simpsons or South Park: Simpsons
Family Guy or Simpsons: Simpsons 
Elmore James or Elmore Leonard: Yes 
Van Morrison or Jim Morrison: Van Morrison 
Duane Allman or Dickey Betts or Derek Trucks: Yes
Warren Buffett or Warren Zevon: Warren Zevon 
Warren Haynes or War & Peace: Warren Haynes
Bruce Hornsby or Bruce Springsteen: Bruce Hornsby
Tom Petty or Richard Petty: Tom Petty 
Keith Richards or Keith Urban: Keith Richards
Kenny Rogers or Kenny Rogers: Kenny Rogers 
Rocky Balboa or Rocky Colavito:  Rocky Colavito
Dwight Gooden or Dwight Yoakam: Dwight Yoakam 
Curtis Mayfield or Curtis Jackson (50 Cent): Curtis Mayfield 
Major Garrett or Major Lance: Major Lance 
Albert Einstein or Albert Collins: Albert Collins
Dr. John or Doctor Who: Dr. John 
Dr Spock or Dr Seuss: Dr. Seuss 
Les Dudek Or Les Miserables: Les Dudek 
Billy The Kid Or Billy Bob Thornton: Tie goes to the runner
Bill Graham or Billy Graham: Yes
Bob Dylan or Bob Marley: Yes